About QUINCY COMPRESSOR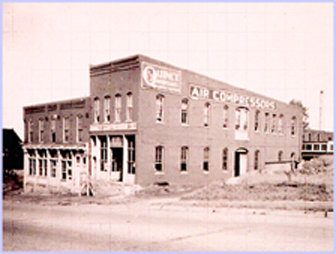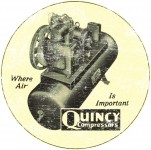 After George Gille, John Kathe, and George Wall discovered there was no interest in their vacuum design where they worked, they found financial backing for a new company in the form of Elation and Maculae Irwin. The Wall Pump and Compressor Co., with headquarters and manufacturing located on Quincy's riverfront, was born in July 1920.
By 1924, the company had expanded its line beyond its original products, vacuum pumps designed for milking cows and its name to Quincy Compressor Company. By that time, Quincy Compressor had begun selling reciprocating air compressors, and the company grew with the increasing demand for compressed air.
In 1937, Quincy Compressor introduced the Quincy QR-25, which has become an industry symbol of quality over the past 65 years. These same durable characteristics are present in all of Quincy's complete reciprocating line, which is manufactured in Quincy, Illinois.
In 1980 we began machining and manufacturing operations in our Bay Minette, Alabama, plant, where we manufacture our rotary screw compressors and vacuum pumps. We expanded the Bay Minette plant's capacity in 1996.
In 2004, we expanded into Kunshan, China, as we opened Q-Tech Air Systems, Ltd. Q-Tech currently employs about 35 people and is expanding. This facility assembles and tests Global rotary screw compressors. The first official production was in July 2004, and the official opening of the facility was in September 2004.
Today, Quincy Compressor is dedicated to delivering uncompromising reliability and performance, customized for the most demanding applications.
TECHNICAL EXCELLENCE
For any industry that runs on compressed air, there's a Quincy air compressor that will help you work more efficiently and keep overhead costs down. Our products can be found hard at work in mechanics' garages and auto body shops, manufacturing facilities, theme parks, energy exploration operations, universities, dental offices, and more.
We've designed our compressors to address the specific working conditions in these and other environments, with an emphasis on providing stable air pressure, fewer maintenance requirements, and longer service lives
Our Commitment
Total Customer Value, or TCV, represents a cornerstone of our business philosophy. It is our company-wide commitment to lean manufacturing and continuous improvement, and it is the reason we can maintain such an exceptionally high standard of quality in everything we do.
As part of a global economy, we are working to ensure each member of the Quincy Compressor team receives ongoing training to recognize and eliminate waste, leading to more streamlined operations and flexible manufacturing capabilities. This, in turn, helps us meet our customers' requirements for economy, sustainability, performance, and innovation in all our products.
Industry Application
For any industry that runs on compressed air, there's a Quincy air compressor that will help you work more efficiently and keep overhead costs down. Our products can be found hard at work in mechanics' garages and auto body shops, manufacturing facilities, theme parks, energy exploration operations, universities, dental offices, and more.
We've designed our compressors to address the specific working conditions in these and other environments, with an emphasis on providing stable air pressure, fewer maintenance requirements, and longer service lives.
Agricultural Compressor Uses
While there are many uses for compressors on your farm, some of the compressors available may be more accommodating for some applications than others. By picking the right tool for the job, you ensure maximum productivity, energy efficiency and longevity in your farming equipment.
When considering a compressor for your farm, consider the energy demands required, the horsepower needed and how often you will be utilizing the device. Like other farming equipment, buying a product that is high-quality, can perform the task when needed and will last for decades is important.
Quincy compressors can be utilized in a variety of applications. When considering your application, also consider if the compressor installation can be stationary, or if a portable option may be more advantageous in certain situations.
Water Pumps – Water is essential to crops, livestock and sustainable pastures. Sometimes compressed air is needed to bring this vital resource to specific areas to optimize growth. By ensuring less downtime and longevity with your compressor, you ensure your livestock and crops have this essential ingredient for life.
Crop Sprayers – Many crop sprayers utilize compressed air, and a reliable compressor is essential in the daily operations of your farm. These types of automated crop sprayers require a large amount of air.
Product Conveyors/Pneumatic Material Handling Machines – Many product conveyors utilize compressed air. Quincy compressors are designed for both intermittent and continuous use. Pneumatic material handling machines are common in the food industry and require a steady supply of compressed air to function properly.
Dairy Machines – Like many automated agricultural machines that utilize a large amount of compressed air, dairy machines are essential. Quincy compressors are designed to handle the continuous and demanding requirements for farms of all sizes. Energy efficiency, in addition to reliability, is essential when selecting a compressor utilized in the dairy industry.
Tractors and Vehicle Tires- One of the most common uses of an air compressor on a farm is to inflate tractor and other vehicle tires on your farm. Whether you need to inflate your ATV tires quickly for the transport of hay to livestock over a large piece of land, or have a large tractor tire that needs inflated, a portable air compressor can be a vital component to your farm. Compressors make this task easy, and will help maintain safety and reliability on your farm equipment. Truck-mount options are also available.
Greenhouse Ventilation – For some growers, getting clean air and proper ventilation to industrial greenhouses can be a challenge solved with compressed air. For long-term use, energy efficiency is needed to maximize the economic benefits of utilizing compressed air for ventilation. Quincy compressors are built for the challenge, and will last for years.
Silos – Compressors can be use to power systems that transport excess grain and food into silos for storage.
Winterization of Irrigation Lines – Sometimes the harsh winter weather can impede irrigation lines. Farmers can utilize compressed air to clear irrigation lines of excess water in order to prepare for winter. Not only does it save on costly repairs, it can also be used to protect and add longevity to vital infrastructure that will last for years to come
Compressors for Manufacturing
In contemporary society, compressed air has found a place in nearly all fields of industry and commerce, including:
Primary product industries (suppliers of semi-finished raw materials to manufacturers)

Heavy goods manufacturers

Consumer goods processing and packaging

Transportation

Construction

Aerospace

Automotive
Cement production
Air Compressors in Manufacturing Environments
Today, manufacturers rely heavily on modern innovations and mechanical systems to assist in a variety of operation processes. Industrial buildings, pumping systems, material handling, primary processing, and the maintenance and repair of various machinery and equipment create a high demand for compressed air. Many day-to-day processes in the manufacturing industry require the use of air compressors that can generate an intermittent or continuous source of pressurized air. In fact, similar to other entities, many companies in the manufacturing industry consider compressed air the "fourth utility" because it's so important to production. It's like water or electricity, and essential to operations.
Manufacturers understand the need for air compressors with the capacity or CFM rating to deliver a continuous or intermittent supply of durable, dependable, clean, and efficient pressurized air. The wide variety of primary and auxiliary manufacturing activities and applications that require compressed air include:
General manufacturing – Clamping, stamping, tool powering and cleaning, controls and actuators
Furniture manufacturing – Air piston powering, tool powering, clamping, spraying, controls and actuators
Plastics, silicone and rubber manufacturing – Mold press powering, tool powering, clamping, and forming, injection molding
Metal Fabrication – Assembly station powering, controls and actuators, injection molding, tool powering, and spraying
Glass, Stone, Clay – Conveying, blending, mixing, controls and actuators, glass blowing and molding, cooling
Mining – Hoists, pumps, pneumatic tools controls and actuators
Food and Beverages – Dehydration, bottling, controls and actuators, conveying, spraying coatings, cleaning, vacuum packing
Quincy Compressor provides viable solutions to manufacturers with a need for a mechanical system to move power around their facilities.
Automotive Air Compressors
Throughout each stage of assembly, automotive air compressors dedicated to powering these processes deliver air to power to the most essential tools and operations along the production line.
Automobiles have traditionally been constructed of steel, though many component parts are now made of petroleum products like plastic, which have shaved significant amounts of weight off motor vehicles in recent decades. In any case, using pneumatic tools allows for the quick and easy assembly of car parts made from a variety of materials.
Vehicle assembly
The manufacturing of automobiles is carried out in several stages, the last of which occurs at the assembly plant, where parts from thousands of sources are combined to make the chassis and body of each individual car, truck and van. In most cases, vehicles are built from the bottom up, starting with the shell, which is set on a conveyer belt and braced to stay in place as it's run down the production line.
Shell construction
The shell undergoes a series of additions while traveling along the assembly line past various hands and machine elements, which install everything from the gas tank, front/rear suspension and axles to the brakes, wheel drums and steering components. Throughout the majority of these steps, automotive air compressors play a vital role in putting each part into place with utmost precision and security.
Engine construction
Then comes the stage where the engine and transmission are brought together. For this task, robotic arms are used to put heavy pieces into place. Once the two components have been installed, technicians bolt down the radiator. During these stages, there's a division of labor between the robotic arms, which do all the heavy lifting, and the human assemblers, who use air–powered wrenches to fasten each component screw. Over the decades, the tools used for these tasks have been made safer and more effective thanks to ergonomic studies regarding the flow of assembly.
Small parts
When it comes to the construction of the vehicle's body, the largest number of smaller-piece attachments are made on the floor pan. Pneumatic tools are crucial throughout this stage, because they allow workers to accomplish in seconds what would otherwise take hours. With each shift along the assembly line, the clamp–shackled shell of the vehicle is put together, piece by piece.
Compressed air is also responsible for the role played by the robotic machinery, which lifts, transports, and positions the quarter panels, door pillars, side panels and roof pieces. Likewise, the shell of each vehicle is assembled more efficiently with the help of a robot because machine arms can bolt and weld numerous items with levels of speed and precision that far exceed human capabilities. Robots have the strength to set roof panels that weigh 200 pounds into the right position for welding. Throughout this process, robots are able to withstand the various hazardous elements of production, including smoke, gases and sparks.
The body and chassis of a vehicle are constructed on different assembly lines from one another. The majority of the panel-welding is done by robotic arms, while bolting is handled by technicians. While the welding is in progress, the shell is braced in a jig. Once the body is rotated out of the secluded welding section, additional parts are added, such as the doors, hood, fenders and bumpers. Afterwards, the shell is connected to another conveyor to undergo the painting part of the process, during which the shell is inspected, cleaned, undercoated, top-coated and baked.
Cleaning
Before the actual painting commences, the body of the vehicle must be thoroughly examined for possible surface defects. The inspection process is carried out in a white room under bright lights. Here, the body is covered in hi-light oil, which makes it easier for technicians to spot any problems with the sheet metal along the hood, roof, bumpers, fenders and doors. If bumps, dents or scratches are detected, repairs are made and the body is then sent along the conveyer to be rinsed free of oil and other possible foreign elements.
Painting
Once the body is finished with the cleaning, it goes to another stop along the conveyer to dry. Up next is the first actual painting stage, where the body receives an undercoat of primer across every inch of the outer shell. This forms a substrate layer that allows for a more solid adherence of the outer coat of paint. Before the topcoat is applied, however, the body is sent back to dry once again. Finally, the main coat of paint is applied across the outer car parts.
In most contemporary automotive plants, coats are applied by robotic arms, which are programmed to monitor exactly how much paint is needed across every inch of each vehicle. The shiny finishes that are preferred by many of today's car owners are the result of well-studied engineering into the capabilities of robotic technology. It's a far cry from the methods that existed a century ago, when cars were painted in the same way as houses, with brush in hand.
These innovations have been made possible by the power of automotive air compressors. They're able to keep moisture levels low while providing consistent power levels to pneumatic tools throughout the complex steps involved with assembling and painting each vehicle that passes along the conveyor belts.
After the vehicle body has received both the primer and topcoat, it's sent to another area to be baked at a temperature of 275° F. With the body now painted, the next steps involve the installation of interior components.
Preparation
The body proceeds down the conveyer to an area where interior assembly is performed. Here, technicians install the full range of interior pieces, including the seats, door panels, dashboard, clutch, pedals, lights, radios, mirrors, vents and speakers. Glass parts are also installed at this stage, including the windshield and door windows. The former is set into place via suction cups at the end of robotic arms, which move the glass panel out of its delivery container and into place at the front of the dashboard. For extra protection, urethane sealer is applied along the edges of the windshield before it's set into place.
Installation
Transportation of the heavier interior components, such as the panels and seats, is also performed by robotic arms. This frees the technicians from some of the more grueling aspects of labor and allows them to instead focus on bolting everything tightly and securely into place. Once the interior is finished and each window is set into frame, the vehicle is passed to another area where it undergoes a water test. The purpose here is to ensure that the doors and windows are tight, snug and foolproof.
Finally, the stage arrives where the body and chassis are joined together. The former is lifted and set down onto the latter via robotic arms, but technicians perform the final acts of assembly. These involve bolting the two components together with pneumatic tools powered by automotive air compressors. The workforce is split between two levels, with some technicians doing their parts at ground level and others operating beneath the vehicle from a work pit. After the bolting is complete, the vehicle is passed down the conveyer to another group of workers who install the battery, apply the tires, pump the gas tank and fill the oil and coolant reservoirs.
The vehicle is now ready to be powered up and driven. Its first destination is a nearby checkpoint, where the vehicle is assessed for performance and quality on all fronts: Tire balance, engine/charging power, light/horn operation and more. If any part is found to be lacking in terms of functionality, the vehicle is sent to an adjacent area where repair workers troubleshoot the problem. Once the vehicle has passed this stage of the inspection, it's appraised for its market value and set with a price tag. From there, the vehicle is taken to a shipping lot, from which it will ultimately travel to a dealer's lot, either domestically or abroad.
Audits
The various parts that make up a vehicle are produced at different locations. Therefore, the planning of each vehicle is a complicated process, since every single part has to be produced, tested, readied and delivered on the date when production is set to commence. In order to ensure that everything is ready when needed, car makers stipulate that component manufacturers must test and inspect all vehicle parts prior to shipment. This allows the assembly plants to ensure that all incoming parts bear the Statistical Process Control (SPC) seal of approval and are defect-free.
Quality control
When components are first put together at an assembly plant, a Vehicle Identification Number (VIN) is given to each new car, truck or van on the production line. This allows the specialists in charge of overseeing the process to trace the development of each vehicle from "embryonic" to fully-built form. In doing so, quality control is executed on a step-by-step basis during the assembly of each vehicle, and imperfections are rectified before a body shell or chassis is sent to the next set of hands.
This marks a dramatic improvement from the days when inspections and corrections were only performed on finished vehicles, because money and time are saved in the process of assembly. Today's assembly plant efficiency has all been made possible by automotive air compressors, which give tools the exact power needed to perform the required functions with utmost precision and speed.
At repair shops, automotive air compressors specified for this application are used to perform maintenance on numerous vehicles, some of which need new coats of paint. Whether the job involves touching up an existing coat or redoing the paint job altogether — either with the same color or something else completely — a particular type of compressor is needed to ensure the right amount of pressure is released with virtually zero moisture.
DIY
If you're handy with vehicles, and you prefer to do your own car maintenance, you could repaint any vehicle in your garage with a pneumatic airbrush. All you need is an air compressor that can deliver the exact consistency needed for even, splotch-free coats. As you shop around for the best air compressor for painting, it's crucial to note the capacity of a given airbrush in terms of consumption, pressure and horsepower (hp). The average amount of air that a tool consumes is defined by cubic feet per minute (cfm). For brushes used in automotive paint jobs, consumption levels are down in the 7-15 cfm range. An automotive air compressor with 3 hp will deliver right in the middle of the airbrush's consumption range, at 10.5 cfm.
Dryers and Filtration for Error Free Painting
Achieving the perfect paint job at home also requires clean, dry, and contaminate-free compressed air. The dreaded fish-use effect results from pockets of fluid that invade the air stream. Properly used air dryers and filtration ensure a smooth mirror finish with airbrush paint products.
Capacity
To a lot of car owners, the idea of do-it-yourself maintenance seems physically intimidating. Thankfully, automotive air compressors remove much of the physical strain that would otherwise accompany the work involved in fixing engine parts and pumping or replacing tires. An air compressor with a capacity of 2.5 hp, 21 gallons and 125 psi can easily be powered up via standard outlets and used to operate pneumatic tools. For the average car owner, the compressor will easily power a simple air-impact wrench, which can be used when working on the timing belt of a front-wheel-drive car to get the front-crank pulleys removed as needed.
Tools/Functions
A variety of other car repairs can also be accomplished in a home garage or driveway with help from a small-to-medium-sized automotive air compressor. For removing nuts and bolts, an air ratchet makes it easy for virtually anyone to get the job done faster than would otherwise be possible with an old-fashioned hand wrench. When it comes to grinding metal like they do at assembly plants and repair shops, an air grinder brings the whole job home with a simple plug-in.
Likewise, the job of cutting metal can be handled by the average car owner with a small, easy-to-operate air saw. Further pneumatic car tools that can be powered by a home-operated, automotive air compressor include vacuum machines and air-powered pressure guns, which can respectively be used to suck out air and check for leaks in cooling systems.
Medical / Dental Air Compressors
It's hard to think of an industry where precision is more important than healthcare. This unwavering focus on meticulousness and accuracy certainly extends to the wide range of air compressor equipment that is used in medical and dental offices, clinics, hospitals, laboratories and surgical centers. Quincy Compressor can provide a medical or dental air compressor that can ensure a consistent, uninterrupted power delivery when using air-driven equipment and machinery in a healthcare setting.
Medical Compressor Solutions for All Types of Air-driven Tools
Many medical and dental facilities these days favor air-powered tools over electrically powered ones because of their greater flexibility, ease of maintenance and cost-saving advantages. Quincy can provide a reliable dental or medical air compressor for equipment used to sterilize tools, deliver gases and perform various dental procedures. Our dental and medical compressors also offer the important benefit of quiet operation.
Get a Medical/Dental Compressor That Provides the Legendary Quincy Performance and Reliability
Quincy Compressor is renowned for providing high-performing air compressor products that are also among the most reliable — and it's been that way throughout our nearly 100 years in business. We also back our dental and medical air compressors with our industry-leading warranty programs. You can use our air compressors in your healthcare facility with total confidence and peace of mind. What's more, you will also benefit from significant energy and cost savings that will result in a healthier bottom line.
Reciprocating: Climate Control
Quincy Climate Control System
Retrofit Unit
HVAC/Climate Control
Climate control is a very demanding market with diverse operating conditions, custom performance expectations and bottom-line accountability. An efficient climate control air compressor is essential for ensuring that an HVAC system produces clean, dry, low-oil (<2 ppm) air. Quincy Compressor offers complete climate control compressor systems that can meet your unique air system demands, regardless of your industry or application.
At a Glance
Ultra-dynamic gap rings

Cast iron construction

Two-piece connecting rods

ASME-coded receiver tanks

Balanced flywheel
Up Close
½ – 20 hp, up to 100 psig service

Single & Two Stage

2 ppm carryover factory certified

High efficiency intercooler

Intake filter/silencer
Natural Gas Compression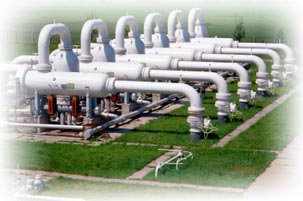 Quincy natural gas compressors can provide a safe, reliable source of compressed air for equipment cleaning and other typical natural gas industry processes. We've been providing superior air and gas compressor products for a wide range of industries for nearly 100 years.
High-Performing Industrial Gas Compressors Can Meet the Challenge
A Quincy natural gas compressor is capable of meeting the unique challenges that pertain to the natural gas industry: Providing 24/7 gas compression service in many demanding applications including gas gathering, well head gas recovery, gas transfer, flare elimination and vapor recovery.
What Makes Quincy Natural Gas Compressors the Best Solution?
A Quincy industrial gas compressor will exceed your expectations in terms of dependability, simplified maintenance, reduced ownership costs and an assortment of flexible gas packaging options:
Dependability:Through quality engineering, rigorous manufacturing and adherence to ISO 9001 standards, enabling Quincy to provide reliable reciprocating and rotary screw compressors.
Ease of Maintenance:The QRNG reciprocating compressor uses heavy-duty, disc-type valves which are accessible without having to remove the cylinder head, unhooking the discharge line, unbolting the intercoolers or other typical valve maintenance procedures.
Low Cost of Ownership:Wide array of sizes, in both reciprocating and rotary screw compressors, allow for a more precise fit to operating conditions and needs, resulting in less wasted energy and more throughput. The QSG rotary screw compressor offers a high efficiency rotor profile to minimize horsepower usage and a bearing arrangement that maximizes reliability.
Expert Gas Packaging:Our quality packagers can provide, by sale or rental, Quincy gas compressors to fit your needs and applications. Our partners have many years of experience in fabricating gas compressor packages with all types of drivers, lubrication systems, a wide selection of control systems and all other components necessary to outfit a first class compression package. Click here to locate an authorized Quincy gas packager.
Air Compressors for Dry Cleaners
Dirty air means a dirty environment, and that defeats the purpose of taking clothing, linens and other garments to a dry cleaner. You want to provide your customers with optimal service, and that means using clean compressed air to run equipment, clean clothing and keep things operating smoothly.
Chemical cleaning applications are the future of the dry cleaning industry, and that's why we've created this guide to look at the benefits and must-haves in today's air compressors for dry cleaning. We'll help you pick the right model to deliver precise amounts of compressed air on demand, for cleaning all types of garments in multiple types of applications.
For a dry cleaning press, you'll want to look for an air pressure range of 70 to 90 and an average free air consumption (CFM) of 3. Read on for more considerations and a little help understanding what those elements mean for the best air compressors for dry cleaning businesses like yours.
Standard Air Requirements for Dry Cleaners
Every dry cleaner runs a unique operation of chemical processes, storage, on-site or off-site treatment and other business practices. Based on these concerns and others like the size and volume of business, each dry cleaner will need a specific air compressor setup designed and installed just for them.
That said, there are elements of each air compressor for dry cleaning systems that should be consistent. Here are some of the most important and most requested features we at Quincy Compressor have seen of those in the dry cleaning business.
Class 0 air quality

Compact, space-saving design

Easy to operate and maintain

Energy efficiency is a must

Low operating and maintenance costs

Quiet operation throughout

Supports environmentally friendly fluids and materials

Variable speed control options

Very reliable air quality and compressed air production
Energy efficiency is one of the top requirements for dry cleaners because utility bills alone can account for as much as 25% of a dry cleaner's total operating costs.
Two Types of Air Compressors for Dry Cleaners
There are two types of air compressors for dry cleaning that deliver the precision you require: rotary screw and reciprocating. Each can meet the demands of chemical applications in order to ensure your operations properly clean and prepare clothing and linens, so that customers are satisfied and continue to come back to your business.
Rotary Screw Air Compressors for Dry Cleaning
Rotary screw air compressors are a time-tested and proven model that deliver high levels of reliability and efficiency. Those suited for dry cleaning applications use two meshing helical screws to perform the compression.
Rotary screw compressors are often recommended because they're among the easiest to maintain and operate, even as they move into larger outputs. Quincy Compressor specializes in highly efficient models that use the latest in modern technology. For dry cleaners, we often recommend the QGS Series because they offer flexible installation options and operate extremely quietly, while offering a range of 5 to 100 HP.
Reciprocating Air Compressors for Dry Cleaning
High-pressure applications in dry cleaning required for uses such as solvent recovery and plant maintenance may be best served through a reciprocating air compressor. These models will use a crankshaft-driven piston or pistons to deliver air at high pressure and maintain their status as the workhorse of your operations.
Reciprocating compressors can scale up significantly for your operations thanks to the development of single-stage and two-stage models. Quincy can help you maximize overall productivity and efficiency by selecting the right unit designed for light applications like your dry cleaning business.
Challenges for Air Compressors in Dry Cleaning
Laundry and dry cleaning systems need to use the cleanest air possible because dirty air destroys service quality. This means your air compressor system should discharge to an air receiver and then flow through at least two filters and a dryer. All of these elements work together to remove debris and water from the air you use. Sometimes it can be difficult to line everything up properly based on size, location and usage constraints.
It may be worth turning to a smart partner like Quincy Compressors to discuss air compressors for dry cleaners if you have an existing system that faces challenges. Maintaining pressures throughout your operations can be a concern when you apply it to washers, assisting with clothes folding and much more.
Here are just a few of the challenges faced by dry cleaners large and small:
Ambient inlet air conditions

Compressed air treatment such as drying and filtering

Generated heat from nearby machinery

Inconsistent maintenance due to placements that aren't easily accessed

Noise that can disrupt employees and machinery

Piping design and bends that produce excess condensation

Space and placement concerns in facilities with a variety of hanging equipment

System leaks — every ¼-inch leak can cost $10,000 per year
Exacting Methodologies
While many on the outside don't realize it, you know your dry cleaning operations, and the industry overall has very exacting methodologies with tight requirements that ensure you deliver a very specific quality and service. That's why businesses like yours view compressed air to be as important as water. Often times, compressed air is seen as the fourth utility in industrial settings.
A dry cleaner will need to have access to accurate amounts of air at specific compression rates and speeds on demand. Whenever you turn on your air compressor, you need the pressure to be available and it has to be quiet so your employees can operate routinely without harm or in a distracting workplace.
Many dry cleaners operate on thin margins and have worked hard to know the number of workers they need for each shift in order to meet demand, while controlling costs. This strict adherence means you demand high-quality work from everyone, and we feel that should include your air compressor too.
Quincy Compressor works with many dry cleaning clients to help find the right mix of consistent air quality and overall cost, with efficiency always in focus. Work with us and potentially find savings and time to put toward growing your business instead of not properly operating or maintaining your equipment.
Compressed Air Piping Systems
Dry cleaners are able to beat many industry problems when they adopt a compressed air piping system, saving money on operations while also increasing operational efficiency. Airnet Piping Systems offer a flexibility installation process that's straightforward but can be adjusted to meet the specific demands of a dry cleaning business.
Piping systems ensure that a business is delivering high-quality pressurized air through any dry cleaning deployment.
To optimize piping systems, dry cleaning store owner and machinery expert Edmund Bagnell provides a few tips that Quincy can help you include in your system:
Ensure it is easy to control pressure because pressure drops "are directly correlated with the rise in cost of these piping systems."

Create a system with no — or as few as possible — bends to streamline the system and help maintain high levels of pressure. You'll also avoid condensation and other issues that often occur in the bends of the system.

Install your system above the ground. Underground systems are harder to maintain and clean, can be dirtier and often waste more water than those installed above ground.

Install systems in places where workers will have easy access in the future. If a worker has to put weight on other equipment to perform routine maintenance, then you risk damage to both the piping system and the equipment that's being leaned upon during the maintenance.
Advanced Oil-Free Needs
Dry cleaners often times require an oil-free system because it helps to ensure that an air compressor pushes out clean air and typically allows you to operate as needed with less noise.
For example, heavily soiled garments might need to be jet steamed in order to be properly cleaned. This requires oil-free compressed air in order to evaporate the solvents that are left over from the cleaning.
The smaller pressure and volume requirements of many dry cleaners means that an oil-free compressor can operate at the required level of CFM and PSI to accomplish your goals. These units can be also lighter weight and less expensive, which is important for operations where margins are relatively thin.
Reducing costs is a chief concern for Quincy Compressor when it comes to suggesting the right air compressor for dry cleaning businesses, and that's why we also promote units that are smart about your energy use.
Costs of Compressed Air
Through a study of the industry and our clients, Quincy has observed that roughly 76% of your air compressor costs are just in the electricity required to operate it. Larger industrial air compressors can ring up an electric bill as much as $800,000 over the course of 10 years.
To help our clients combat these costs, we focus on energy-efficient models that reduce overall energy consumption. We also invite you to consult with a representative to match your compressor to the air pressure requirements of your applications and tools.
We've also put together a general industrial air compressor savings guide to help you properly maintain your compressor and costs. This plan helped Mega Brands Inc. reduce the cost of its air compressor usage by more than half.
Managing Energy Costs
As previously noted, energy bills can reach up to a quarter of your operational costs. Compressed air systems are often touted as a great energy saver because they can ensure consistent application of your cleaners while reducing maintenance costs and coolant costs for your industrial equipment.
For dry cleaners, poorly maintained systems can waste 25% to 35% of their air due to leaks alone.
There are steps dry cleaners can take to further ensure that their air compressors are operating at peak efficiency. The great news for dry cleaners is that your maintenance is simple and most fixes are extremely quick. Quincy Compressor can help businesses like yours prep and clean their air compressors and provide resources for you to remember what to check.
Some of the most important aspects for your business will be:
Regular cleaning of intake vents

Checking and cleaning air filters

Monitoring heat exchangers, removing debris and cleaning based on your model
Occasionally, a business like yours will need to perform a more thorough check of your air compressor system in order to ensure that things are working properly and that you're doing the right maintenance to extend its life for as long as possible. Part of this process includes using an ultrasonic leak detector to check for air leaks in distribution lines. Again, modern conveniences have turned this check into a handheld unit that most businesses can also rent and operate on their own.
A Quincy Air Compressor for Dry Cleaning Is the Best Solution
With nearly 100 years of air compressor expertise, you can trust Quincy Compressor to provide a dependable, accurate solution:
Dependability: Through quality engineering and rigorous manufacturing processes, Quincy makes equipment that is reliable whether it is being used to supply compressed air for solvent processing and recovery or garment pressing and delivery.

Accurate Pressure Control: Stable air pressure is a Quincy hallmark. Specially designed for your industry, Quincy's compressors are available in a wide range of pressures and, with proper storage throughout your process, are capable of maintaining that pressure.
Our air compressors for dry cleaning offer the optimum balance between cost-efficiency and consistency. You'll be able to focus on serving your customers instead of worrying about the performance of your equipment.
Pharmaceutical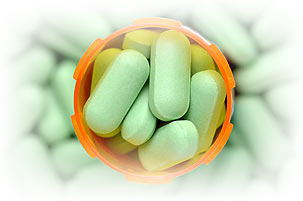 Today's pharmaceutical manufacturers are faced with the challenge of working in an increasingly strict regulatory environment while still maintaining a high level of quality control. The need for clean operating machinery for testing and production has never been more clear. Since 1920, Quincy has been manufacturing industrial compressors for use in a wide range of industries, including pharma and medicine.
The Challenge
Clean, dry, contaminate-free compressed air … These are all characteristics required by the pharmaceutical industry. Working with delicate medication produced at high speeds also requires dependable, reliable, relentless operation and duty cycle to deliver trouble free air at acceptable costs. To meet these requirements, pharma manufacturers depend on compressors that can rise to the challenge of a fast-paced production or testing environment, while eliminating the risk of contamination.
The Solution
Quincy's selection of air compressors and air treatment products for pharmaceutical plants can be relied upon to deliver:
Clean air: Quincy offers particulate and coalescing filters rated down to 0.01 micron and 0.001 ppm.
Dry Air: Quincy also offers desiccant air dryers with pressure due point ranging from -40 °F to -100 °F.a
Oil-free operation: The Quincy QRD Scroll series of compressors are oil-free and as such will not introduce oil to the compressed air stream.
Dependability: Through quality engineering and rigorous manufacturing processes, Quincy machines and assembles equipment that is reliable whether it is being used to supply compressed air for medication manufacturing, conveyance, or instrument air.
Low-cost maintenance: Built to last and to require minimal service. That's how every Quincy air compressor and vacuum pump is designed.
Potential Applications
Pharma companies rely on Quincy equipment for a wide range of applications. Our air compressors have been designed to deliver reliable performance in operating environments that must be kept clean and contaminant-free at all times. In pharmaceutical plants, Quincy air compressors are frequently used to create air that transports products, delivers spray on coatings, maintains pressure in mixing and holding tanks, and bottles products or insert them into blister packs.
Compressed air-powered tools and processes are also used in research and testing laboratories, where they play a key role in delivering accurate, repeatable results. For these and other uses, Quincy compressors have the reputation for quality and reliability that is trusted around the world by some of the most demanding customers.
Designed and Built for Exceptional Quality
Every Quincy compressor is manufactured in one of our ISO-registered production facilities. ISO registration means we adhere to a set of repeatable, measurable best practices for quality control and environmental management. As a result, you can count on each of our products to deliver industry-leading performance for the long term. We also back up our pharma plant compressors with a comprehensive warranty covering individual components for up to 10 years on select models.
Energy Exploration
Meeting the high demands of the energy industry requires equipment that is built to work tough, day in and day out. Onshore or off, Quincy products are delivering the reliable operation and efficient performance oil, gas, and other energy companies demand. We specialize in air compressors for drilling rigs, pipeline operations, petroleum refineries, and more. Read on to learn more about how our products address the specific working challenges associated with these environments, and why a Quincy compressor is the right choice for your operation.
The Challenge
The harsh conditions and diverse environments faced by energy exploration operators put an incredible strain on equipment and leave little room for error. Drilling rigs and stationary platforms in open waters can't afford unreliable air or gas compressors. When salt and humidity begin to compromise the performance of an air compressor on a drilling rig, help is miles away and productivity can quickly come to a halt.
Likewise, in remote onshore locations, getting repairs, ordering spare parts, or bringing in backup equipment can be both time-consuming and prohibitively expensive. Any energy company concerned about their bottom line can't take a risk on a compressor that won't deliver in extreme cold or humidity. That's why it's important to have equipment designed for harsh conditions, with exceptional quality-control processes.
The Solution
Any compressor for energy company use must be capable of delivering reliable, consistent performance, no matter what your crew throws at it. Designed for all energy-industry applications, including drilling rigs, Quincy air compressors can be relied on for:
Dependability: Through quality engineering and rigorous manufacturing processes, Quincy Compressor makes certain its equipment is reliable whether it is being used to power tools, start engines and motors or assist in conveying drilling mud.

Low cost of ownership: Repair and maintenance costs on Quincy equipment are among the lowest in the industry. In fact, Quincy's QSI rotary screw airend is considered one of the lowest cost of ownership airends in the industry, with standard 5- and 10-year warranty programs on select models.
Potential Applications
Quincy offshore and marine air compressors have a number of potential applications for any business engaged in energy exploration and seabed surveying. They are frequently used to drive air guns or to compensate for motion caused by turbulent seas. Visit individual product pages to learn more about potential uses and specifications.
Quality Products Backed by an Industry-leading Warranty
One of the reasons why Quincy has been a leading air compressor supplier for marine and offshore applications is because we stand behind every one of our products. Quincy compressors are backed by one of the best warranties in the business. Standard coverage varies from product-to-product, though many of our compressors qualify for extended warranty programs good for up to 10 years on certain components.
When the success of your operation rests on the reliable performance of a Quincy compressor, that's a commitment to quality you can trust in any environment.
Plastics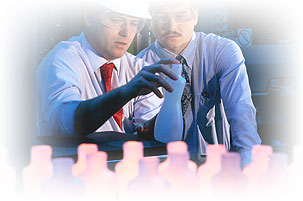 Air compressors are widely used in the plastics industry, as many modern automated plastics manufacturing processes require maximum precision and accuracy in terms of power input. A Quincy air compressor for plastics applications features state-of-the-art technology that can be applied to typical plastics manufacturing processes such as:
Material handling

Tooling

Various production and assembly line procedures

Equipment cleaning
All products are backed by the nearly 100 years of expertise that have made Quincy Compressor a leader in the air compression industry.
Quincy Air Compressors for Plastics Can Meet the Challenge
Extremely competitive and highly automated: These two dynamics are driving plastic industry decision makers to seek out air compressors that can heighten efficiency and deliver solid dependability. Quincy air compressors for plastics are specifically designed and engineered to help you meet both of these challenges head-on.
How Can Quincy Compressor Products Provide the Best Solution?
A Quincy air compressor for plastics is efficient, intelligent and provides significant energy savings, which can help you maximize your automated process and improve your competitive position in the marketplace with:
High Efficiency:Quincy air compressors are engineered to provide the most reliable and efficient air pressure available. In an industry where already slim margins can be impacted dramatically by lost seconds in cycle time/cycle rate, and when entire plants can be brought to their knees by loss of air, Quincy's rugged, reliable compressors are mandatory.
Integrated Intelligence:Because Quincy designs many of its compressors with built-in intelligence, they can be integrated to maximize system performance.
Energy Savings:Through the application of its patented EQ/ Efficiency Quotient, Quincy can quickly and accurately define the potential energy savings a substantial plastics operation can expect to capture by bringing its facility more into line with Best Practices.
Food & Beverage Air Compressors
Contamination from compressed air is a major source of concern for the food and beverage industry. Modern manufacturing and production facilities use compressed air in multiple ways, increasing the potential for contamination if the machinery is not working properly.
These processes require compressed air to be clean, dry and free of contaminants to ensure your production is running smoothly. Your goods need to meet rigorous safety and quality inspections, and dirty air can introduce problems at almost any point in your process.
Why Put Contamination Risk First?
Eliminating contamination is your primary concern when including any new system into your operations. Your air compressor decision should be the same.
In the United States alone, foodborne illnesses are expected to cost roughly $55.5 billion each year in medical treatment costs, lost productivity and illness-related mortality, impacting about 9 million Americans. If any foodborne illnesses are traced back to you, chances are likely your operation could suffer from product recalls and potential litigation.
The risk to you is often extremely expensive. Roughly half of all food recalls will cost a company more than $10 million, and losses of up to $100 million have been reported.
In 2016, there have been major recalls for pet food products. Food recalls happen for a variety of reasons, from major contaminations to improper labels, all of which may occur throughout a supply chain. Take care to guard against it.
To ensure you have a safe air compressor system, work with Quincy Compressor to locate the best air compressor for food and beverage applications.
Comparing Beverage Plant Air Compressor Solutions
To address the unique challenges of your food and beverage air compressor needs, Quincy recommends that you judge compressors on at least three categories:
Quality — Quincy relies on its foundation of satisfied food and beverage industry clients to ensure our air compressor systems are designed and properly deliver consistently clean, dry air.
Dependability — Stable air pressure is a chief requirement for the food and beverage industry. Quincy ensures its compressors are designed specifically for industry needs, especially rotary screw compressors that support a variety of production methods. Quincy vacuum pumps also provide solid solutions for low-pressure applications such as conveying.
Energy Savings — By making use of a patented EQ/ Efficiency Quotient process, Quincy can determine energy-saving potential across almost any food and beverage application. The EQ process quickly and accurately determines what efficiencies and energy savings you can achieve. It also helps you define steps to reach those savings by bringing your facility in line with industry best practices.
A Guide to the Best Air Compressors for the Woodworking Industry
Challenge
Air compressor and vacuum pump dependability, efficiency and energy savings are all key in every woodworking operation. OEMs, furniture manufacturers, millwork operations and a host of other wood product businesses recognize that compressed air and vacuum pumps must be cost effective to operate.
Solution
Dependability: Through quality engineering and rigorous manufacturing, Quincy makes equipment that is reliable whether it is operating industrial rotors and saws or powering spraying equipment for a refinishing shop.
Stable Air Pressures: No other compressor delivers more consistent air pressure or more efficient low-pressure air for open blowing than a Quincy compressor.
Energy Savings: Through the application of its patented EQ/ Efficiency Quotient, Quincy can quickly and accurately define the potential energy savings a substantial woodworking operation can expect to capture by bringing its facility more into line with Best Practices.
On-site generation gives compressed air a definite advantage over other powers sources. The majority of companies that manufacture and process products use compressed air in some form because of the ability to have more control over usage and quality. For instance, different companies that perform woodworking and lumbering processes need dependable, high pressure air to move heavy loads and conduct spark-free operations.
For smaller-sized companies, like those doing custom woodworking, a reciprocating air compressor is a popular choice. For high-volume furniture manufacturing and for sawmills, the rotary screw design is what gets the job done.
With so many ways that compressed air is used in the woodworking industry, we've highlighted the applications of pneumatics for wood processing, then described some possible options for air compressor systems in both sawmills and furniture manufacturing. We've also given some recommendations and references for a full system assessment that will identify areas of improvement to have your air compressor system running as lean as possible.
Pneumatic Reliability for the Harsh Environment of Wood Processing
Compressed air is used in many industries for power when the alternatives are unsafe and unclean. Wood processing involves considerable temperature fluctuations, high power demand, dirty environments and continuous operation. The advancements in compressed air technology has made it the ideal source for equipment and tool power — especially when it comes to electronic controls and hardware.
A sawmill uses pneumatic air cylinders for a variety of applications. Our modern sawmills work at high-speed production rates and depend on the stable air pressure for the fast-paced and demanding environment. Some of the uses of air cylinders are:
To sort lumber by size and length into bins with a bin-diverter air cylinder.

To cut the lumber for maximum value using a "cant optimizer" to position the cant (lumber) appropriately.

To cut logs to the standard lumber length with a conveyor and log-kicker to push the log off at just the right time to the transfer deck.

To hold down a log with hold-down rolls and activate the lift.
In furniture manufacturing, cabinetry and many other manufacturing industries, air compressors work mainly to power production lines of air tools and factories that have light and heavy air needs. Some of the uses of woodworking pneumatics are:
To power hot melt dispensing applications.

To coat surfaces with automated sprayers or air-powered hand tools.

To automate nailing.

To control movement of wooden boards.

To power drill feed systems.

To monitor various aspects of production for quality control.
The quick, efficient operation and versatile cushioning that comes from pneumatics makes it an ideal solution for the high-production needs of lumber processing and detailed needs of furniture manufacturing. Yet it is also ideal for fine craftsmanship and precision work. The wide array of production-enhancing applications that can be implemented through an compressed air system is what makes it ideal in woodworking and any other manufacturing facility.
The Best Air Compressors for Every Woodworking Application
From the start of wood processing in sawmills to the finishing line in a furniture manufacturing plant, compressed air is vital to various steps in production. Pneumatics play an important role in felling trees, operation of tools and automating operations. Blowers can be designed to create a low-vacuum, high-flow setting to reduce product rejections. Vacuums can be used to secure wood for accuracy.
The advancing technology in air compressor designs and applications makes them highly reliable and flexible for the woodworking industry to be a favored solution for a number of manufacturing inefficiencies.
Upgrading your air compressor system or choosing the best air compressor for your industry needs to be done with professional assistance to evaluate your intended processes or expansion. However, we have a basic outline of some of the possible options geared to sawmills and furniture manufacturing.
The Best Air Compressor for Lumber Processing
The typical compressed air system in a sawmill will be the highest user of electricity. A large sawmill will have a number of air compressors that deliver 600-1000 horsepower. The majority are oil-flooded rotary screw designs that provide a reliable and high-performing power source.
When freezing temperatures hit, sawmills need to deal with system issues related to the freezing air / water from compression. A major factor in efficient operation of a compressed air system are desiccant air dryers that dry the system air to a -40 F dewpoint. With dryers in place, there is no freezing happening in air valves, and the performance of air cylinders is enhanced.
Another helpful system element for sawmills is an air receiver to act as a trim receiver. In a high-production sawmill, there could be a 10,000-gallon air receiver tank to store air that is immediately available when airflow is in peak demand. With the various compressed air operations that take place in a sawmill, the need for short supply of high volumes of air can happen often enough that the lag time for an air compressor to reload takes valuable time away from production and profit.
Working in tandem with large storage tanks is the demand controller that levels out the pressure swings in the mill and can instantly supply the plant with large amounts of air when there is a sudden demand. A sequencing control system is also installed to manage the whole system with several sensors to monitor temperatures, pressures and the flow and wattage used by the compressor motors.
Advancing electronic controlling has made air compressor systems more efficient, especially with specific customization for the mill operations and unique system setup. The control system can provide mass volumes of data that can be used to identify various metrics like how each compressor runs loaded and unloaded. You can also have the control system maintain a desired PSI throughout and have full control over pressure to be able to safely experiment with lower pressure rates.
The Best Air Compressor for Furniture Manufacturing
As a furniture manufacturer grows over the years, so too will its air compressor system. A company that starts out in a single building with one air compressor can eventually expand their operations with any number of different air compressors and dryers operating in separate buildings. Large manufacturers will be mainly depending on rotary screw air compressors for their source of air, but they may also be using reciprocating air compressors for certain areas of production. Custom woodworking shops and small manufacturers can be adequately supplied with one or more reciprocating piston compressors.
Since air tools are often the main source of air demand, compressed air needs are determined by the air usage needed for each tool. In a system assessment performed for an expanding furniture factory, they determined that the air tools needed to expand their framing and upholstering operations would increase their air usage by 400 CFM. They were operating one of their buildings with 13 framing tools, 27 upholstering tools and 25 sewing tools, each rated at 5.2 cfm. This would be increasing to 34 framing tools and 83 upholstering tools, while the sewing line would remain the same.
Whether you're looking at starting up as a furniture manufacturer or expanding an existing operation, there are various calculations that can help you establish how big your air compressor system needs to be in terms of pressure, air usage and storage. You'll also need to determine what other elements are needed like dryers, blowers and vacuums.
Full System Assessment for a Cost Effective Operation
Improve your bottom line through energy assessments and upgrades that look at all areas of your compressed air system. Wood processing plants spend a significant amount on energy consumption. By analyzing energy use on an annual basis, you can benefit from improved efficiency in various areas.
Considering that around 76% of the lifetime operating cost of an air compressor is from electricity, a complete compressed air system assessment will produce a number of options from eliminating air leaks to major system upgrades. By making some or all changes from a system analysis, the savings in energy can give you an attractive long-term return on investment.
Here is a brief list of some areas related to your compressed air system that could help you reduce energy costs in your woodworking facility:
Pneumatic tools and accessories. Proper maintenance and operation of air tools is one of the simpler ways to improve efficiency. Changes could include:
Using the right tool for the job.

Ensuring operators are trained properly on efficient tool operation.

Cleaning and adjusting tools properly for the application on a regular basis.

Installing local pressure regulators adjusted to the lowest pressure needed for the job.

Having dedicated storage at the end-use equipment to prevent pressure loss system-wide.

Implementing a preventative maintenance plan to regularly check hoses and quick-disconnect fittings that are a common source of air leaks.

Buying new tools that are appropriately sized for the application — not oversized and using more air than needed.

Inappropriate end use. Eliminating wasteful applications of compressed air can offer quick savings with little expense. Some of the typical inappropriate uses are:

Unregulated and unnecessary blowoff.

Diaphragm pumps.

Venturi vacuum pumps.
Leak detection and repair. Unplanned leaks in your compressed air system could be wasting a significant amount of air. Up to 30% of air produced has been attributed to leaking systems in industrial facilities that don't perform regular leak detection and repair checks. In one furniture factory, 55 leaks were detected with 90 to 95% of leaks happening in the pneumatic circuits — not in the lines.
Your leak management program should include:
A trained operator using an ultrasonic acoustic detector.

Checking for leaks during production time and during off-hours.

Identification (with tagging), tracking, repairs and employee awareness.
Air storage. Short surges in air demand can be efficiently handled by properly sized air storage. This will reduce the frequent occurrence of wasting air through compressor unloadings. With pressure regulators and adequate storage (for oil-flooded compressor: 4 gallons of storage for every 1 cfm of compressor capacity) you will be in the position to run a lean production line.
Equipment and controls. Upgrading your compressor or air system equipment may have you thinking about the major cost. While the price of new equipment and installation is certainly a considerable investment, it just may be the route you need to take for an efficient system. Even though you may have high upfront costs, the biggest expense of compressed air is mainly from the electricity needed to operate your compressed air system.
If you have an older system, you may not be getting the benefits of energy saving features like:
Automatic sequencing.

Multiple stages of compression.

Part-load controls (variable speed drive, turn valves, load / unload).
Getting a thorough compressed air system assessment done will give you a plan to be able reduce your costs and have a more dependable production facility. Ideally, you'll be able to use existing equipment more efficiently and implement practices and procedures that will reduce unnecessary demand.
The Best Quincy Compressors for the Woodworking Industry
We've been supplying the woodworking industry with the finest air compressors and vacuum pumps for generations. Our uncompromising reliability is especially suited to the demanding environments of many sawmills and furniture manufacturers. As a solutions provider, we've designed several of our compressors and vacuum pumps with the specific challenges in mind that are experienced in wood processing and manufacturing.
Products
Rotary: QGS Series
QGS-7.5
QGS-15
QGS-25
QGS-30
QGS-40C, 50C
QGS-60
QGS 5-100 hp Belt Drive Compressors
If you're looking for a highly efficient 5-100 hp compressor, the Quincy QGS can meet your needs. Featuring the most advanced rotary screw air compressor technology, the QGS serves as a reliable source of compressed air for a wide range of industrial applications. And with the low cost of QGS ownership, this peak-performing screw compressor will have a positive impact on your company's bottom line.
At a Glance
Standard quiet enclosure

8,000 hr. premium synthetic fluid

Low oil carryover

Designed for 100% duty cycle

Integrated dryer option

Tank mount option
Up Close
High efficiency intake filter

True Blue 5-Year Warranty with start up

Long life V-belt drive

TEFC motor, IP 55 (wash down)
Features and benefits:
If you choose a 5-15 hp rotary screw air compressor, you get access to a number of advanced optional features. These include a high-temperature refrigerated dryer, and a 100 and 150 psi conversion kit (recommended for 10-15 hp rotary screw air compressor models only). Options that are available with 20-30 hp models include a 120-gallon receiver tank with manual drain and 575/3/60 Hz & 380-415/3/50 Hz electrics.
http://www.quincycompressor.com/products/rotary-screw-air-compressors/qgs/#1471713171818-7fe52b63-5a62 (tham khảo thêm đường link)
Rotary: QGD Series
QGD 15-60 hp Gear Drive Compressors
Are you in need of an air compressor that is tough, easy to use and efficient? The QGD Series, appears in our world-class rotary screw compressor lineup, and can meet all of these requirements and much more. These 40-60 hp air compressors provide plenty of power — they have industry leading flow and specific energy available at 100-125-150 psig. You have the ability to network up to six machines, making the QGD ideally suited for your large compressed air tasks.
With a premium airend design, industrial-grade enclosure and simple, intuitive controls, the Quincy QGD is designed to provide reliable compressed air under the most demanding conditions. Backed by Quincy Compressor's 5-Year True Blue Warranty, the Quincy QGD carries the same rugged construction that has inspired customer loyalty for generations.
At a Glance
Airlogic 2 Advanced control

NEMA Premium TEFC Motor is standard

Ease of serviceability

Sound level as low as 66 dBA
Up Close
70-281 acfm @ 125 psig

100-150 psig

No belts

Network up to 6 machines

Premium Efficiency Airend
Features:
The Quincy QGD line includes:
Standard NEMA Premium TEFC Motor

Wye-Delta Starter

Microprocessor Controls featuring networking up to 6 units and remote monitoring

Cellular connectivity

NEMA 4 electrical enclosure

Long life consumables intervals

Quite Enclosure to 66 dBA

True Blue 5 year warranty
http://www.quincycompressor.com/products/rotary-screw-air-compressors/qgd/ (tham khảo them đường link)
Rotary: QSI Series
QSI 220i-500i
QSI 20-350 hp Premium Industrial Compressors
Quincy Compressor provides you with the industry's most reliable direct drive air compressor on the market. Robust direct drive airends, and multiple option configurations ensure that a QSI is the correct solution for any application. Industrial duty direct drive QSI air compressors take all aspects of compressor ownership and optimize them in order to provide you with the best ROI in the market.
At a Glance
Available with Power$ync

Air or water cooled

Best specific power

Sound level as low as 66 dBA

Premium Serviceability
Up Close
90-1500 cfm

100-150 psig

130,000 hour design

TEFC & NEMA options

Industrial Duty Direct Drive

7″ full-color display
http://www.quincycompressor.com/products/rotary-screw-air-compressors/qsi/ (tham khảo them đường link)
Rotary: QGV Series
https://www.youtube.com/watch?v=9cb4k63RsYQ
QGV 20-200 hp Variable Speed Compressors
A variable speed air compressor is equipped with a specially designed drive that controls and adjusts the operating speed. This offers a number of benefits, including delivering more constant pressure, protecting against power surges and lowering energy consumption. Many variable speed air compressor owners experience a significant reduction in their energy costs over time.
The Quincy QGV variable speed rotary screw air compressor provides among the most stable of pressures available from a compressor with 85% turndown. At the heart of all QGV compressors is a direct-drive airend with 100,000 hour design, providing low cost of ownership, easy maintenance and reliable operation. Enjoy real-time performance monitoring with graphical analysis and full-color, touch-screen control.
At a Glance
Direct-drive airend

Heavy duty intake filter

Holds pressure +/- 2 psi

Unique low demand mode

Low power consumption
Up Close
82 – 982 cfm, 75-150 psig

Sound levels as low as 68 dBA

Standard low sound enclosure

Full color touch-screen display
http://www.quincycompressor.com/products/rotary-screw-air-compressors/qgv/ (tham khảo them đường link)
Rotary: QSLP Series
Shown w/ optional canopy
QSLP 10-200 hp Low Pressure Compressors
Do your work processes require a reliable source of low-pressure compressed air? You could choose a rotary vane compressor, although the high oil carryover typically associated with these models does not result in the cleanest air. And while oil-free and two-stage units produce clean air, the former offers extremely high upfront costs while the latter are susceptible to pressure fluctuations. A better low-pressure air compressor alternative is the Quincy QSLP.
Designed especially to deliver 25-40 psig with maximum energy efficiency, the QSLP is an innovative rotary screw compressor perfectly suited for low-pressure applications. The QSLP uses between 10% and 25% less energy than similar units. Not only does it cost less to buy and install a QSLP, but it continues to pay you back with every hour of installation.
At a Glance
Most energy efficient at 7 cfm/hp

Air or water cooled

300,000 hour L-10 bearing life

Positive displacement pump

Modulating inlet valve
Up Close
Only 2-3 ppm carryover

Standard heavy-duty inlet filters

Full instrumentation panel

TEFC and NEMA options

5 & 10 Year Warranty Programs
http://www.quincycompressor.com/products/rotary-screw-air-compressors/qslp/ (tham khảo thêm đường link)
* Pressure Lubricated Reciprocating/Piston Air Compressors
Reciprocating: QR-25
QR-25 1-25 hp Heavy Duty Compressors
Do you need a heavy-duty compressor that can handle your high-demand compressed air applications? The Quincy QR-25™ is recognized throughout the industry as the leader, unmatched by any reciprocating compressor in the field and backed by one of the most comprehensive five-year warranties in the business. This highly advanced 1-25 hp air compressor series provides reliable, time-tested performance, a low cost of ownership and a maximum efficiency that will have a positive impact on your company's bottom line for years to come.
The Quincy QR-25™ is recognized throughout the industry as the leader, unmatched by any compressor in the field, and backed by the most comprehensive five-year warranty in the business. The QR-25 is pressure lubricated in all critical areas, runs at slower speeds and features durable cast iron construction for longer life and less downtime. View the Legendary heritage of the QR-25 and/or share your unique QR-25 story. See also: QR-25 Climate Control.
At a Glance
Manually reversible oil pump

Intake unloaders reduce work

Low maintenance requirements

Rebuildable components

Loadless starting
Up Close
1-25 hp, 500 psig maximum

Single & Two Stage

100% duty cycle rated

Pressure lubricated

Cast iron cylinders/valve seats
http://www.quincycompressor.com/products/reciprocating-piston/qr-25/ (tham khảo thêm đường link)
Reciprocating: QP
QP 5-15 hp Industrial Duty Compressors
The Quincy QP series is designed for tougher 175 PSI applications where traditional splash lubrication just won't measure up. The QP heavy-duty, cast-iron compressor has an oil pump for pressure lubrication to the crankshaft, bearings and connecting rod up to the wrist pins. The pressure lubricated system allows for a smoother continuous operation. Coupled, with an attractive price, QP balances cost effectiveness with longer life to maximize your investment.
At a Glance
Fully pressure lubricated

Cast-iron crankcase, cylinder and flywheel

High efficiency intercooler

Positive displacement oil pump
Pro Unit
"Standard" configuration Units

Ball Valve Tank Drain

Auto Start/Stop 5-10HP

Dual Control 15HP

Shorter Lead Time-Stock Units

Extended Warranty Available

Two-Year Package and

Three-Year Pump vs. One-Year on configured units

Easier to Order – Preassigned Part Numbers
Up Close
5-15 hp, 175 psig maximum

Two Stage

Oil filter and pressure gauge

Automotive style inlet filter/silencer
Max Unit
"Fully Loaded" Units

Air Cooled After Cooler

Electronic Drain

Low Oil Protection

Vibration Isolators

Auto Start/Stop 5 to 7.5HP

Dual Control on 10-15HP

Extended Warranty Available

Two-Year Package and Three-Year Pump vs. One-Year on configured units
Easier to Order – Preassigned Part Number
http://www.quincycompressor.com/products/reciprocating-piston/qp/ (tham khảo them đường link)
Reciprocating: QT
QT 3-15 hp Standard Duty Two Stage
Leading the industry with the most acfm per brake horsepower, the Quincy QT™ ensures more air while consuming less energy in the production process. A one-piece aluminum head optimizes strength and dissipates heat, while Quincy's unique valve design provides the highest volumetric efficiency available.
The reciprocating Quincy QT is a standard duty air compressor designed to deliver more CFM per brake horsepower, ensuring the powerful, reliable performance you demand. Basic QT models include:
Quincy 5 hp air compressors including the 2V41C60VC and the 251CP80VCB

Quincy 7.5 hp air compressors

Quincy 10 hp air compressors

Quincy 15 hp air compressors
At a Glance
Two-piece connecting rods

High efficiency intercoolers

Industrial class bearings

Loadless auto stop/start

Cast iron crankcase/cylinders
Pro Unit
"Standard" configuration Units

Ball Valve Tank Drain

Auto Start/Stop 5-10HP

Dual Control 15HP

Shorter Lead Time-Stock Units

Extended Warranty Available

Two-Year Package and

Three-Year Pump vs. One-Year on configured units

Easier to Order – Preassigned Part Numbers
Up Close
5-15 hp, 175 psig maximum

Two Stage

100% duty cycle rated

Splash lubrication system
Max Unit
"Fully Loaded" Units

Air Cooled After Cooler

Electronic Drain

Low Oil Protection

Vibration Isolators

Auto Start/Stop 5 to 7.5HP

Dual Control on 10-15HP

Extended Warranty Available

Two-Year Package and Three-Year Pump vs. One-Year on configured units
Easier to Order – Preassigned Part Numbers
http://www.quincycompressor.com/products/reciprocating-piston/qt/ ( tham khảo thêm đường link)
Reciprocating: Climate Control
http://www.quincycompressor.com/products/reciprocating-piston/climate-control/ ( tham khảo đường link)
Quincy Climate Control System
Retrofit Unit
HVAC/Climate Control
Climate control is a very demanding market with diverse operating conditions, custom performance expectations and bottom-line accountability. An efficient climate control air compressor is essential for ensuring that an HVAC system produces clean, dry, low-oil (<2 ppm) air. Quincy Compressor offers complete climate control compressor systems that can meet your unique air system demands, regardless of your industry or application.
At a Glance
Ultra-dynamic gap rings

Cast iron construction

Two-piece connecting rods

ASME-coded receiver tanks

Balanced flywheel
Up Close
½ – 20 hp, up to 100 psig service

Single & Two Stage

2 ppm carryover factory certified

High efficiency intercooler

Intake filter/silencer
Features:
Standard and Optional Climate Control Air Compressor Features
All of our climate control air compressor models are state-of-the-art and include a wide variety of standard features such as:
A one-piece, double-throw, copper-weighted crankshaft

Automotive-style two-piece connecting rods

An innovative valve plate design featuring replaceable stainless steel valves

A high efficiency intercooler, specifically designed to improve compressor operating efficiency
In addition to the starter and Duplex Control Panel, optional features include refrigerated dryers, automatic tank drains, PRV stations and isolation pads. Combination and non-combination duplex panels featuring a two-source power supply are also available.
Reciprocating: Single Stage
http://www.quincycompressor.com/products/reciprocating-piston/single-stage/
(tham khảo đường link)
* Pressure Lubricated Reciprocating/Piston Air Compressors
Reciprocating: QR-25
http://www.quincycompressor.com/products/reciprocating-piston/qr-25/ (tham khảo đường link)
Reciprocating: QP
http://www.quincycompressor.com/products/reciprocating-piston/qp/ (tham khảo đường link)
Reciprocating: QT
http://www.quincycompressor.com/products/reciprocating-piston/qt/ ( tham khao đường link)
Reciprocating: Climate Control
http://www.quincycompressor.com/products/reciprocating-piston/climate-control/ (tham khảo đường link)
Reciprocating: Single Stage
http://www.quincycompressor.com/products/reciprocating-piston/single-stage/ (tham khảo đường link)
* QOF: Oil-Free Scroll Compressors
http://www.quincycompressor.com/products/qof/ (tham khảo đường link)
* Vacuum Pumps
Vacuum Pumps: QSV Series
http://www.quincycompressor.com/products/vacuum-pumps/qsv/ (tham khảo đường link)
Vacuum Pumps: QCV Series
http://www.quincycompressor.com/products/vacuum-pumps/qcv/ (tham khảo đường link)
Vacuum Pumps: QLR Series
http://www.quincycompressor.com/products/vacuum-pumps/qlr/ (tham khảo đường link)
Vacuum Pumps: QSVI Series
http://www.quincycompressor.com/products/vacuum-pumps/qsvi/ (tham khảo đường link)
Vacuum Pumps: QV Series
http://www.quincycompressor.com/products/vacuum-pumps/qv/ (thao khảo đường link)
Vacuum Pumps: QVMS Series
http://www.quincycompressor.com/products/vacuum-pumps/qvms/ ( tham khảo đường link)
* Genuine Quincy Compressor Parts & Fluid
http://www.quincycompressor.com/products/genuine-quincy-compressor-parts-and-oil/ (tham khảo đường link)
* Natural Gas Compressors
Natural Gas: QSG Series
http://www.quincycompressor.com/products/natural-gas-compressors/qsg/ (tham khảo đường link)
Natural Gas: QRNG Series
http://www.quincycompressor.com/products/natural-gas-compressors/qrng/ (tham khảo đường link)
* Air Treatment Equipment
Dryers
http://www.quincycompressor.com/products/dryers/ (tham khảo đường link)
Filtration
http://www.quincycompressor.com/products/air-filtration/ ( tham khảo đường link)
Condensate Management
http://www.quincycompressor.com/products/condensate-management/ (tham khảo đường link)
* AIRnet Air Piping System
http://www.quincycompressor.com/products/air-system-piping/ (tham khảo đường link)